About Aquadis® Faucets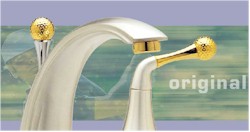 Sound engineering, meticulous design and assured quality; these are the distinctive features of the whole range of products from Aquadis! Simple, yet high performing, durable and guaranteed for life, the many models of faucets and accessories offer you a wide variety of choice.
Our faucets are made with the highest quality of materials. The same ceramic cartridge is used throughout our range of products, ensuring easy maintenance. Moreover, all of the components are tested, approved and carefully checked, this regard for excellence shows our strong commitment to our customers.
Whether you fancy a faucet with a modern look or one with a traditional style to suit your decor, you are sure to find it among the large variety of Aquadis' models.
All of Aquadis' products are guaranteed for life against leaks or finishing defects. They are guaranteed for life and undergo rigorous testing in order to meet the highest standards. Aquadis offers you its best in order for your faucet to work perfectly for life. You like it? It's yours with Aquadis! The faucets that make our exclusive collections are produced with our superior ceramic cartridge that provides perfect opera
---
---