Benefits of Bamboo Flooring
See More about Benefits of Bamboo Flooring >>>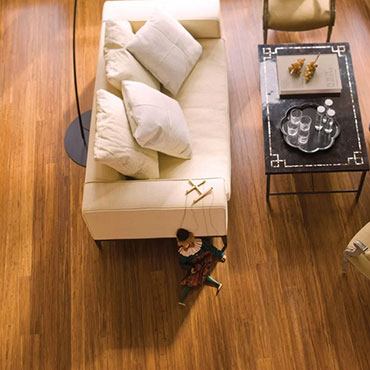 Question: I am planning to replace the flooring throughout my home. I've been looking into replacing it with bamboo. Can you tell me why bamboo would be a good choice and what are some of its benefits?
Answer: Bamboo is a smart choice for flooring in today's homes. It is not only aesthetically enhancing, but comes with many benefits that has lend to popularity amongst other flooring treatments.
Teragren specializes in producing high-quality bamboo flooring for residential and commercial spaces. Here are just a few of the benefits of introducing Teragren's bamboo products into your scheme of things:
Aesthetically Beautiful – Bamboo's trendy, sleek and modern styling reflects a unique look and feel to a room. Bamboo offers a variety of styles and finishes from which you can choose: casual chic to classic elegance, light tones to darker finishes. You can decide on the exact flooring that will complement your design scheme. One option to consider when planning an interior is Teragren's Xcora strand bamboo, a product line which houses five different collections with a world of options; making it easy to satisfy preference, performance and design.
Eco-Friendly and Sustainable – Bamboo is a sustainable and fast-growing grass that can quickly be replenished from harvesting. It serves as a smart and conscious choice when it comes to preserving our natural environment. To ensure the bamboo that you are considering is environmentally friendly.
A Natural Product – In building on ecological consciousness, Teragren strives to use natural products that are proven to contribute to sustainable and healthier lifestyles. Consumers are advocating for flooring that will truly meet this standard and Teragren has delivered!
Durability – A high quality bamboo such as Teragren's revolutionary Xcora strand bamboo flooring is, on average 160% harder than red oak. These floors offer hardness, durability and stability that are perfect for high-traffic areas in both residential and commercial settings. We also specify only Teragren Optimum 5.5 Moso bamboo that is grown in the Zhejiang province of China. There are more than 1,500 species of bamboo; Moso bamboo is among the hardest, with dense fibers that make for strong timber and beautiful, durable bamboo flooring. Furthermore, bamboo has greater compressive strength than concrete and about the same strength-to-weight ratio as steel in tension.
Conclusion
Bamboo floors are trending, inviting, and they are environmentally friendly. They can add a touch of style and design to just about any interior. They are the perfect choice for a broad range of interior styles. To learn more about Teragren's bamboo flooring lineup, check out our website at Teragren.com.
---
NOTE:
Middle Georgia Tile Company does not carry every style of product. Check with us first about a particular product or to see if your product choice is available for special order.
---